The Primera Division title is now officially out of Madrid's hands, says Goal.com's Subhankar Mondal...
Find the best odds and bet on La Liga.
Javier Camunas put his hands over his eyes, then kissed the ring on his right hand and embraced Carlos Aranda. His team-mates caught up to them, rushed towards the touchline and geed up the Osasuna supporters. It was a beautifully crafted goal and an important one as well - it propelled them three points above the relegation zone and could potentially turn their season around because of the inflation of confidence and self-conviction it could spark.

But while Camunas and his team-mates were going bonkers with delirium, the Real Madrid players were sinking into desperation. They had had their chances but had failed to take them, and now with a goal down with just under 30 minutes of normal time remaining their belief was evaporating. Fast.

It wasn't the first time that they had gone down to an opponent in the league on the road - Hercules and Almeria both had given los Blancos a scare - but there was a spooky nameless apprehension that this time there would be no comeback, no salvation. Madrid's last three competitive games were won by a one-goal margin and prior to that came a disappointing draw at Almeria - the defeat at the Reyno de Navarra was all too obviously coming.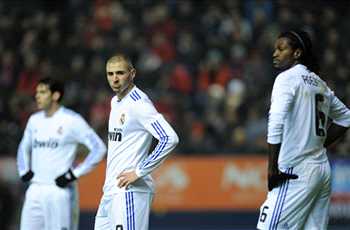 Madrid players looked devastated after their 1-0 defeat to Osasuna.


Jose Mourinho made a triple substitution, bringing on Kaka, Xabi Alonso and Emmanuel Adebayor, not so much a pre-meditated chess move as a last-ditch attempt from a father to rescue his daughter from her kidnappers by taking a gun and going barrel-chested all on his own.

After all, making a triple replacement at a time when you are a goal down is as much a 'tactical masterstroke' as it is a 'tactic' to push everyone back to defend when you are a man down in the semi-finals of the Champions League (remember Inter's 1-0 loss to Barcelona at Camp Nou last season?)

The substitutions didn't work, inevitably, and Madrid lost the game. And probably the Spanish Primera Division title too.

Because Madrid are now seven points behind Barcelona in second place. That is effectively eight points since Barca destroyed Mourinho's aura and Madrid's charm in November by inflicting on them what club president Florentino Perez described as "the worst game in the history of Real Madrid". Unless Madrid better that 5-0 humiliation, they will lose to Barca on head-to-head record should the two teams end up level on points at the end of the campaign.

Now you could argue that under Juande Ramos in the second half of 2008-09 and Manuel Pellegrini in 2009-10 Madrid provided Barca with a stiff challenge and kept alive the title race until the concluding weeks. You could argue that with games against bogey team Atletico Madrid (home), Athletic Bilbao (home), Valencia (away), Sevilla (away), Villarreal (away), Madrid (away) and Espanyol (home), Pep Guardiola's side are likely to drop points - maybe they will not lose but they will not win either. Furthermore, the Blaugrana will probably rest some of their key players from time to time given that they will be involved in the Champions League from February.

But so will Madrid, who also have Espanyol (away), Atletico (away), Athletic (away), Barcelona (home), Valencia (away), Sevilla (away) and Villarreal (away) to take on in the remainder of the campaign. Barcelona have won their last 15 league games in a row and dropped just five points in the first 21 matches - between now and the end of the season the Blaugrana have 17 games left. Furthermore, Barca can afford to lose a match and still remain confident; Madrid cannot fail not to win the next 17 league encounters - and it includes the Clasico against Barca at the Bernabeu.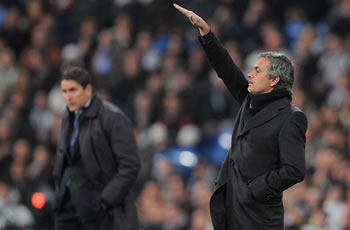 Barcelona are to Real Madrid what Jenny is to Matt in My Super Ex-Girlfriend - they are everywhere Madrid look, a ghost that has attached itself to Madrid's shadow.

Mourinho claims that he wasn't appointed the coach to defeat Barcelona - he came in to win trophies. Problem is that to win silverware he would have to mastermind a conquest over Barcelona just as he did last season at San Siro with Inter.

Everywhere Madrid look, they find Barcelona - leaders in the Primera Division, favourites for the Champions League and on course to meet them in the final of the Copa del Rey. Barcelona are to Madrid what Jenny is to Matt in My Super Ex-Girlfriend - they are everywhere Madrid look - a ghost that has attached itself to Madrid's shadow.

Barcelona have scored 401 goals in 157 competitive games under Guardiola, and Messi, who was on target twice against Hercules, has scored

164 goals and is fourth in Barcelona's all-time scorers' list

. Barca are carrying on in death-defying form to shatter all sorts of records in the league and although there is a whisper that they are not exactly looking as great as they were in 2008-09, their records and the ease with which they are pillaging everyone in Spain suggests otherwise. Barca look unstoppable.

Perhaps Mourinho knows that too and is trying to hide behind excuses but the eclipse isn't going to last long. Mourinho wanted a striker to complete his squad and he got Adebayor. Mourinho could also claim that this is his first season at the Bernabeu and that he needed two years to make Inter great; but he should also know that winning nothing at the end of the 2010-11 campaign would be the third year in a row that Madrid would have ended empty-handed - the same as the drought between 2003 and 2006.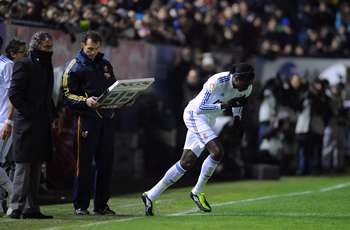 Mourinho's substitutions were uninspiring and terribly desperate.


Maybe the Portuguese would blame off-pitch factors (namely his supposed

difficult relationship with director-general Jorge Valdano

) as disruptive influences on his team's performance. But then again, Barca don't have an exceptionally healthy admin with the future of Pep Guardiola, Daniel Alves and even the club's financial stability concealed in uncertainty.

Mourinho remains the best coach in the world and the one best placed to rescue Madrid's league campaign, but even he needs a spar to keep himself afloat. There may be 51 points still to play for in 17 Primera Division weeks, but the stark, naked truth is that the title is out of Madrid's hands. They showed a fraction of the silver to Barcelona at Camp Nou on November 29 and since then the Blaugrana have continued to lure the trophy-mistress towards themselves so much so that she is now their concubine.

La Liga title is not for Madrid's to win; it is Barcelona's to lose.